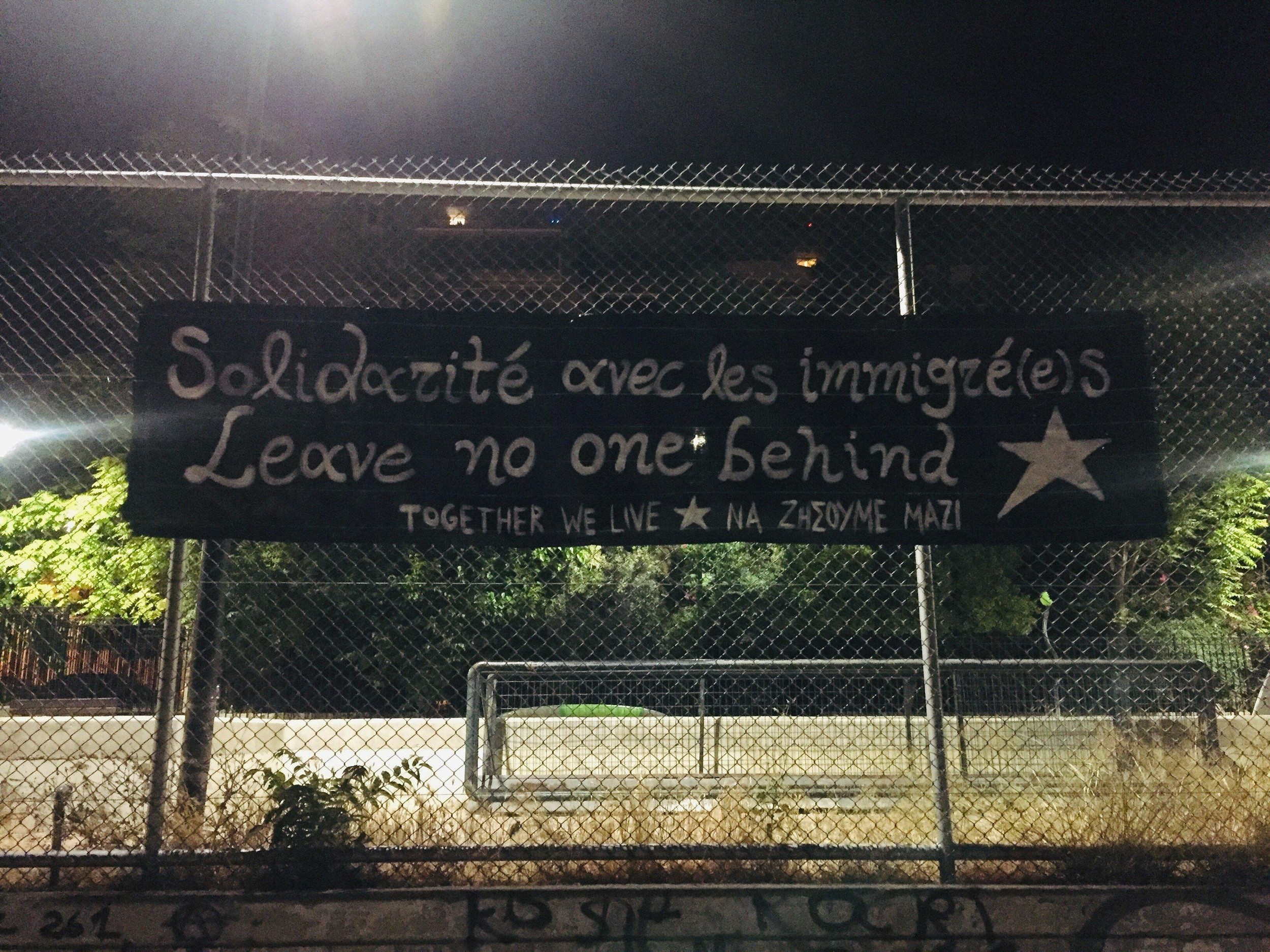 The weekend 23-24 May, various groups and individuals hanged a series of banners as a sign of solidarity with migrants targeted by the anti-immigration policies of the Greek state. These banners were hung in different neighborhoods of Athens, including Patisia, Kypseli, Petralona, ​​Gyzi, Philadelphia, Chalandri, Agia Paraskevi, Galatsi, Agios Eleftherios, Agios Nikolaos.
This coordinated action is a minimum response to the intensification of the anti-immigration war that is taking place in every part of the Greek territory. The pushbacks in the Aegean and Evros, the evictions of the migrant squats in the center of Athens, the quarantine-incarceration of thousands in camps under the pretext of the coronavirus, the defamation of migrant women in Kranidi, the police violence against any non-white person in the streets are daily manifestations of state-organized and socially diffused racism.
Μigrants do not remain inactive in face of this reality. They break the monologue of state violence and articulate their own resistances and refusals. The hunger strikes in the detention centers of Paranesti, Moria, Corinth, Glyfada and Peristeri police stations, the uprisings in Chios and Samos, the daily migrant marches in Lesvos, the denunciations from the prisoners in Petrou Ralli, the self-organization of migrants against evictions are moments of the struggle against exploitation, invisibility and death.
Nothing less than our undivided solidarity with immigrants and their struggles for life, freedom and dignity.
IMMEDIATE RELEASE OF ALL MIGRANTS.
AGAINST ALL CAMPS, CLOSED OR OPEN.
LOCALS AND MIGRANTS, TOGETHER WE LIVE.
LEAVE NOONE BEHIND.
Comrades
★